CAUSS in the News
CAUSS - Citizens Against Ugly Street Spam
These are articles, news stories, and letters to the editor about street spam, CAUSS - Citizens Against Ugly Street Spam, and related issues. They are in reverse chronological order. The most recent articles are listed first.
Many of these articles are dated, and are kept here for historical purposes. Also see the CAUSS forum, where more current articles are posted.
* Website registration required.
** Fee may be required to access archived article.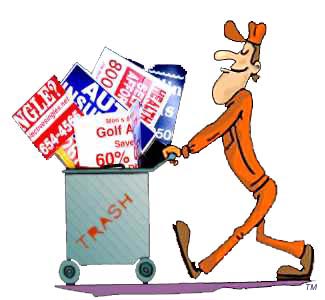 2003:
KHOU Ch11 News Houston, 9/18/03 *
Some Mayoral canadidates perform high-wire act
The Dallas Morning News, 4/2/03 (Archived - fee required)
Roadside warriors work to clear cities of banned signs
Washington Post, 2/27/03
New Law Will Help County Crack Down on Illegal Signs
2002:
Austin-American Statesman, 11/15/2002 **
Judge says sign law doesn't curb rights
News8 Austin, 11/8/2002
Travis County Republicans say sign ordinance unconstitutional
News8 Austin, 10/11/2002
Planned city Sign Off cancelled
The Denver Post, 10/1/2002 **
Streetside spam fight gets ugly
Austin-American Statesman, 8/16/2002**
Illegal signs? City's rangers ride to rescue
Rocky Mountain News, 8/5/2002 (Removed from Archives)
Illegal signs are not lost CAUSS
The Denver Post, 6/10/2002 **
Street placards lose weight fast when anti-spammer goes to work
The Sacramento Bee (California), 4/28/2002
Movement growing to fight 'street spam'
The Aurora Sentinel (Colorado), 4/22/2002
Sign activist says he has recipe for cooking spam
TheKCRAChannel (Sacramento, CA), 4/17/2002
City Cracks Down On 'Street Spam'
Las Vegas Weekly, 4/2/2002
Signs, sealed and destroyed - Arizona man, Texas group declare war on Vegas street spam
Gainsville Sun, 3/31/2002 (archive)
Area officials tackle roadside sign litter
USA Today, 3/17/2002
Don't get scammed
Kansas City KMBC, 3/11/2002
Overland Park Cracks Down On Illegal Signs
Wisconsin Department of Agriculture, Trade, and Consumer Protection, 2/19/2002
Wondering about those work-at home signs
Utne Web Watch, 2/11/2002 (Article removed from Archives)
Stop Street Spam, Web site review by Kate Garsombke
Westword News (Denver area), 2/7/2002
Signing off - Denver's sharks take a bite out of obnoxious -- and illegal -- marketing signs
ctnow.com by The Hartford (CT) Courant, 2/6/2002
Crusader Seeks To Rid His Town Of Street Spam
Mendon (MA) Town Crier, 1/17/2002
Letter to the Editor
Las Vegas Review-Journal, 1/13/2002
ROAD WARRIOR: Man on mission to eliminate signs
Austin American Statesman, 1/8/2002 **
Man gets kicks as unofficial Sign Ranger
2001:
Austin American-Statesman, 12/30/2001
Letter to the Editor
The News Journal (DE), 8/27/2001
2000:
KTRK-TV Houston ABC 13, 11/22/2000
ClickZ Today (internet newsletter) Dana Blankenhorn, 10/3/2000
Florida Times-Union (Jacksonville), 8/16/2000
St. Petersburg Times, 6/11/2000
Massapequa (NY) Post, 5/17/2000
WFAA-TV (text narrative of CAUSS Rally in Dallas), 1/29/2000
1999:
Destin (Walton County) Florida, July 1999